producer
For inquiries about production or contracting work, please e-mail madeline.k.falcone@gmail.com
Gifts of the Spirit with Ron Athey and Sean Griffin
Co-produced by The Broad Museum and VOLUME. Associate Producer, Madeline Falcone. (photos by Ben Gibbs)
Gifts of the Spirit: Prophecy, Automatism and Discernment is Ron Athey's vision for an "automatic writing machine" brought to life in collaboration with the composer Sean Griffin as a performance/installation made up of 16 writers, six typists, a hypnotist, vocalists, and musicians. In this work, the artist "completes" his memoir ("Gifts of the Spirit") together in ecstatic communion with his collaborators. This living machine makes a tightly choreographed and scored visual spectacle bringing together writing, reading and listening into a layered performative action resulting in a collectively authored text and sound score.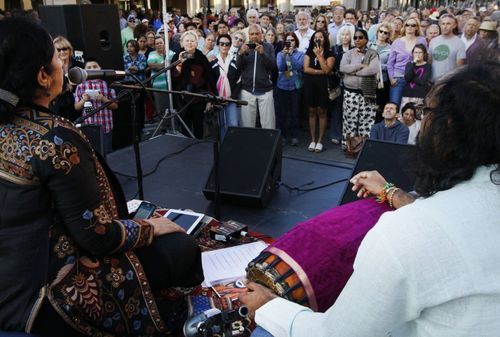 Santa Paula Street Party Jam Session
Santa Paula Street Party Jam Session
Produced by Madeline Falcone for the Ojai Music Festival with Peter Sellars. (photos by Claudia Boyd-Barrett)
As the grand finale of the 2016 Festival, the Ojai Music Festival and Santa Paula Chamber of Commerce presented a free street party featuring OMF artists and Los Angeles bands performing on two stages in downtown Santa Paula. Performers included Dina El Wedidi, ICE, Aruna Sairam, Davóne Tines, Youth Orchestra LA (YOLA), Los Jornaleros del Norte, and Cambalache.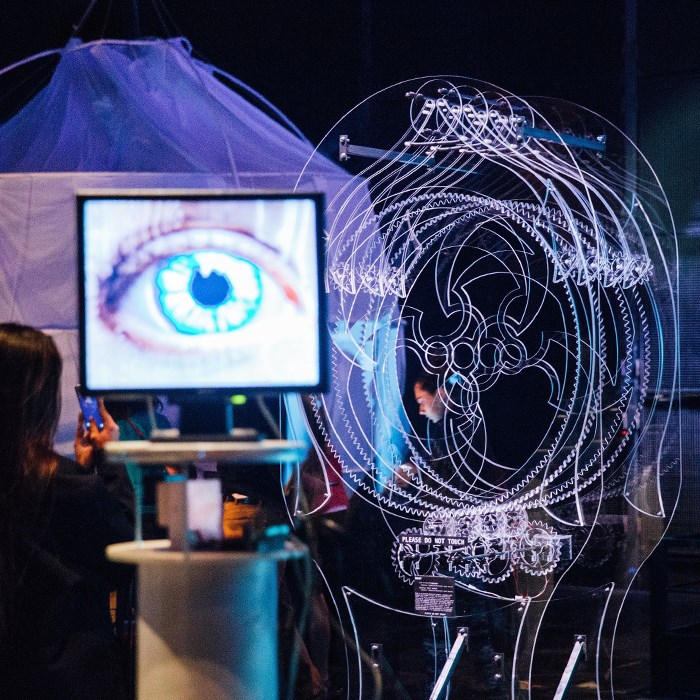 California Institute of the Arts
CalArts Expo
Ajay Kapur, Director; Madeline Falcone, Producer, 2014–present. (photo by Rafael Hernandez)
The annual CalArts Expo reflects the latest practices in technologically sophisticated arts, involving viewers in interactive experiences, bringing artists' perspectives to computer games, forecasting future directions of digital performance, animation, and projection mapping, and exploring the latest in software and hardware as a means of commenting on our increasingly connected world.
Learn more about the Expo artists and team at expo.calarts.edu
Other production credits (selections)
Charles Gaines: Manifestos 2 (photo by Justin Lowman for dayoutlast)
Partch: LSD/Dementia (photo by Luis Sinco for the Los Angeles Times)
Sila: The Breath of the World (photo from New Music USA)
Burat Wangi: CalArts Balinese Gamelan
Anne LeBaron Portrait Concerts (photo by Lawrence K. Ho for the Los Angeles Times)